Todmorden is one of the three 'Walkers are welcome'  towns  in the upper Calder Valley in the Heart of the Pennines.

NEW FOR SUMMER 2019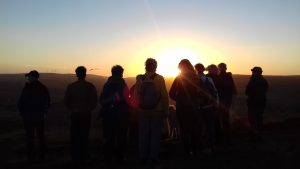 Following the success of our Solstice  and Philosophy Walks, offered originally as part of the Incredible Festival of Ideas in Summer 2018, we have decided to lead a regular TodWalkers walk.
We will start this summer – watch this space!
About us
TodWalkers is a group of enthusiastic walkers based in and around Todmorden West Yorkshire, officially formed in March 2015.  We have a constitution (copy here),  and some people to form a Committee (chair, vice-chair, s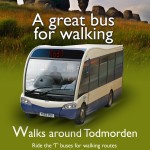 ecretary and treasurer). The present Chair is Nick Littlewood, Vice Chair Robin Asby, Secretary Penny Marrington and Treasurer Annette Williams
Our first project, 'Bus walks',  resulted in a handsome booklet that's on sale in our local Todmorden Information Centre.
The aim of TodWalkers is:
to encourage recreational walking in the Todmorden area, both for local people and visitors
to campaign for better facilities for walkers, including the adequate maintenance of existing footpaths/bridleways and the creation of new footpaths.
In meeting these objectives, TodWalkers will as much as possible seek to encourage the use of public transport.
Our work is in the form of projects.  See the rest of this website for more details of our current projects.
To become a member of TodWalkers, please contact Penny at penelope.marrington@sigmatwo.co.uk . We'll send you a form to fill in – and membership is free.
---
 If you come across any local paths that need repairing, please could you contact us at hello@todwalkers.org.uk